The Best Survival Knives for Bushcraft & Outdoor Adventures
The knife: A foundational tool of human civilization. In its simplest form, a knife is just a sharp edge with a place to safely hold it. We tend to believe a less-is-more approach to outdoor gear design is often the best path to success, but when it comes to knives—particularly, survival knives—sometimes more is more.
When venturing into nature, carrying a trustworthy pocket knife is highly recommended—it is one of the 10 essentials, after all. A Swiss Army Knife will do for most lightweight backpacking needs. A multi-tool is great for car camping. Your dad's old folding Buck knife oughta work well enough in most casual situations, too.
So what makes a knife a survival knife? Well, as unhelpful as it sounds, a survival knife is any knife you've suddenly become dependent on to survive. This could, in theory, be the simple pen knife you keep on a keychain if the situation is dire enough. For our purposes, let's say you're a little more prepared than that, and you've gotten a specific knife to help you survive, or practice surviving. 
What should I look for in a survival knife?

The two most important elements in most survival situations are fire and shelter. You'll need some ingenuity and know-how to achieve both, but a good knife will make the job a lot easier.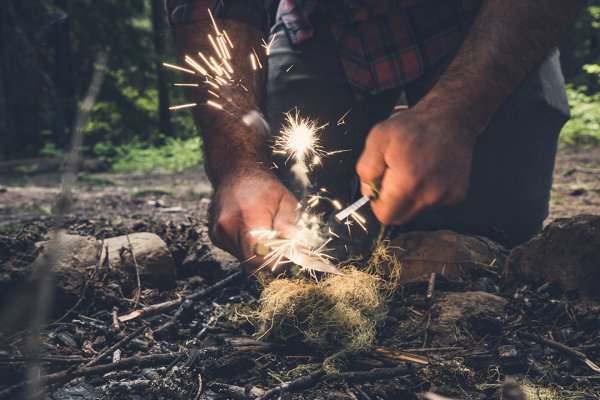 Knife Design

Building a shelter and making fire both involve the manipulation of wood, so you'll need a strong knife that will hold its edge. And because sturdiness is so important—a knife won't help you survive if it breaks during hard use—we generally recommend a fixed-blade (as in, not folding) survival knife with a full-tang construction, meaning the steel of the blade extends all the way through the handle. Full-tang knives are best for practicing bushcraft techniques too. If you just want a reliable knife to keep in your glove box, purse, or pocket, then a folding knife will work fine.
Size

For a dedicated survival knife, bigger is typically better. But not too big. A good and generally accepted size for the category is around nine inches, plus or minus a few. But again, the best survival knife is the one you have with you when disaster strikes—any blade is better than none at all, and there are exceptions to every rule.
Sharpening Tools

Keeping your knife sharp is important. It is a blade after all. I sharpen all my knives (kitchen and outdoor) on a whetstone. This can be an involved but rewarding process that I won't go into too much detail about. If you're interested in learning about knife sharpening this way, there's dozens of videos on YouTube and a ton of crabby knife sharpening "experts" on Reddit who would be more than happy to preach their gospel to you. For those of you that plan on being away from your home sharpening tools, there are some less cumbersome options but, as with everything else mentioned earlier, this requires planning. 
The 9 Best Survival Knives of 2022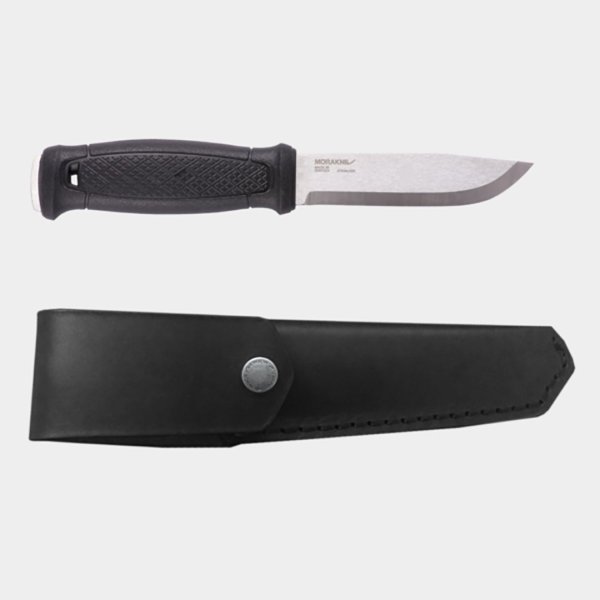 Morakniv Garberg


Best Overall Survival Knife: Morakniv Garberg

Morakniv's Garberg is a solid middle of the road survival knife. There's no fat on this knife, it's all business, which is probably also why it's moderately priced for a full-tang knife. The Swedish Mora knife has a 90° angle on the spine so you can strike a ferro rod with it to start a fire or use it to strip bark. (This was the first knife I bought to practice bushcraft techniques so I have a soft spot for it.)
Blade Length:   4.3 inches
Overall Length: 9.8 inches
Blade Material:  Sandvik 14C28N stainless steel
Weight:              9.5 ounces (272 grams)

Price: $92

 Shop Now!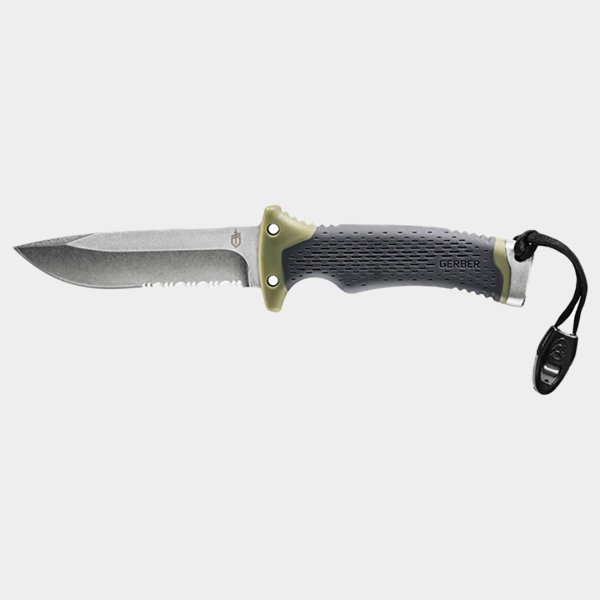 Gerber Ultimate
Best Full Tang Survival Knife Under $50: Gerber Ultimate

The Gerber Ultimate is billed as a survival knife and has some add-ons including a fire starter, whistle, and sharpener, all of which nest in its included nylon sheath. But the Ultimate's bones are solid too: it has a partially serrated stainless steel blade and its grippy handle has an exaggerated guard to minimize the risk of hurting yourself when you're trying to survive. It's also the cheapest full tang knife on this list.
Blade Length:   4.75 inches
Overall Length: 10 inches
Blade Material:  stainless steel
Weight:             11 ounces (312 grams)

Price: $49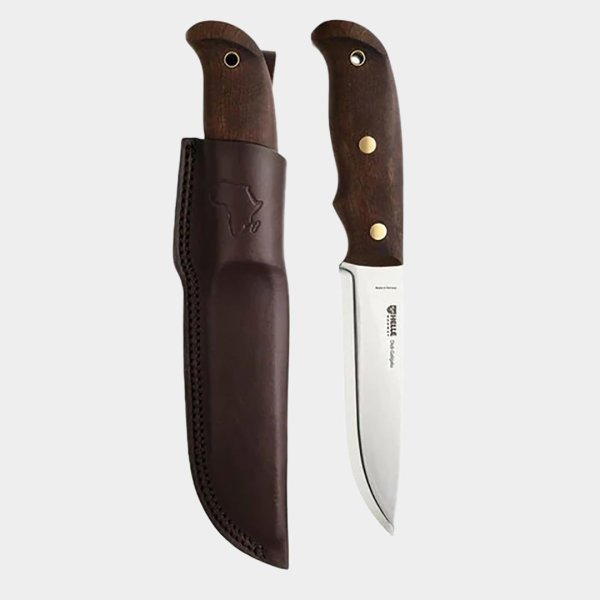 Helle Didi Galgalu
Best Bushcraft Knife: Helle Didi Galgalu

This is a husky knife. Not quite a bowie knife, but a real workhorse best for folks with larger hands. With a blade length of over eight inches, this full tang knife is built to take a beating without fail—meaning it's more than up to the task of batoning logs into kindling and pretty much any other bushcraft task you need to perform.
Blade Length: 3.3 inches
Overall Length: 8 inches
Blade Material: Sandvik 12C27 stainless steel
Weight: 6.8 ounces (193 grams)
Price: $200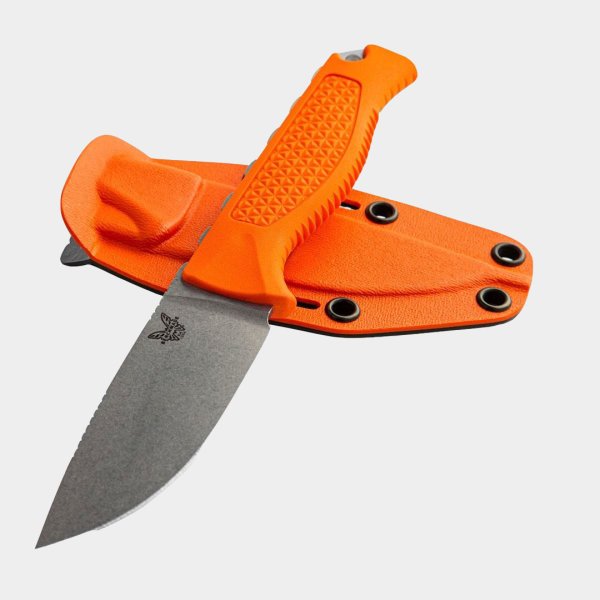 Benchmade Steep Country
Best Hunting Knife: Benchmade Steep Country

This is a very lightweight knife (the lightest of the bunch, at only 85 grams) and comes with a nice high-viz orange handle. Both of these features make it a good knife too. Its razor sharp blade is 3.54 inches long and made of high-end CPM-S30V steel, which will hold up to serious use over multiple adventures with the solid edge retention and corrosion resistance.
Blade Length:    3.5 inches
Overall Length:  7.8 inches
Blade Material:  CPM-S30V steel
Weight:              3 ounces (85 grams)
Price: $140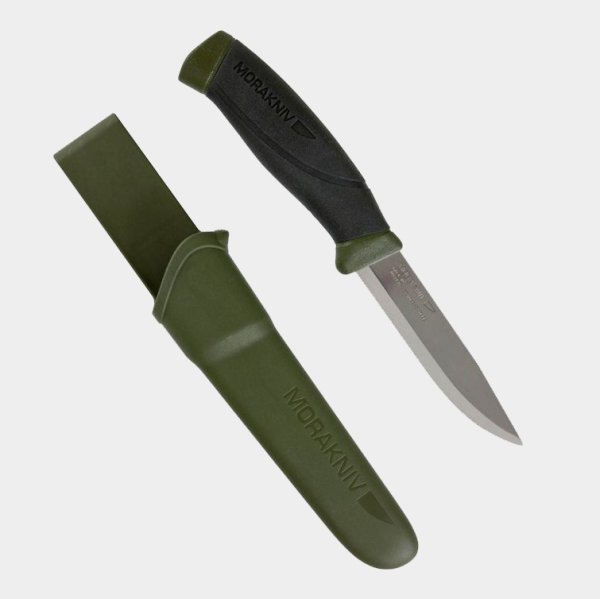 Morakniv Companion
Best Budget Knife: Morakniv Companion

This knife is dirt cheap and a Swedish classic. Buy a few and keep 'em all over—from your car's glovebox to your backpack, EDC bag, camping bin, etc—to ensure you're always prepared. It probably won't survive a lot of batoning or chopping, but it punches way above its weight when you consider it only costs just $25. The Companion doesn't have a full-tang construction but it is definitely sturdy enough for serious use. 
Blade Length:   4 inches
Overall Length: 8.6 inches
Blade Material: 12C27 stainless steel
Weight:             4.1 ounces (116 grams)
Price: $25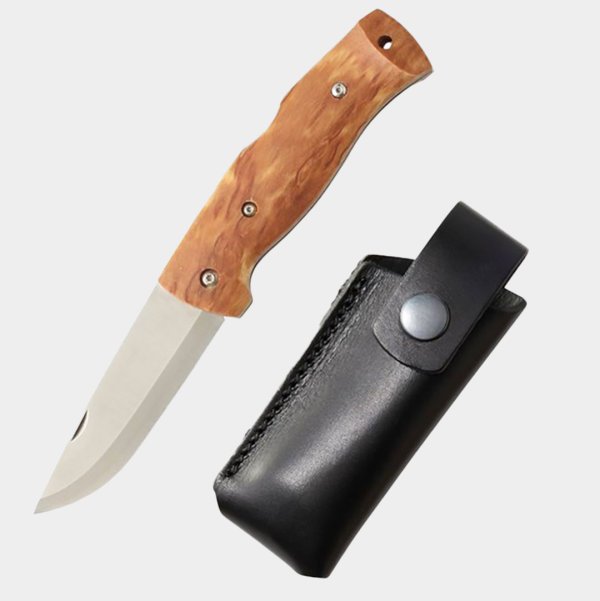 Helle Bleja
Best Folding Survival Knife: Helle Bleja

The Bleja is a chunker of a folder, and we mean that in a good way. Again, true survival knives are almost always fixed blades, but this is a notable exception, mainly because its locking mechanism is so burly and the risk of it breaking is rather low. The camp knife's 3.35-inch blade is made of Helle's triple-laminated steel, formulated to hold up to years of backcountry use, and its handle is a curly birch that'll only wear in with age. If you want a survival knife but are still conscious of pack space, this folder is a good option.
Blade Length:   3.4 inches
Overall Length: 7.9 inches
Blade Material: triple laminated Helle stainless steel
Weight:             5.4 ounces (153 grams)

Price: $224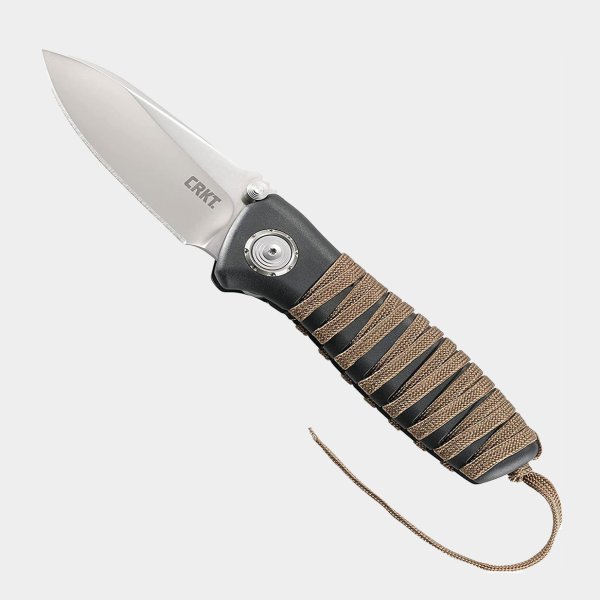 CRKT Parascale
Best Everyday Carry Knife: CRKT Parascale

CRKT's Parascale is another exception to the no-folder rule. It's a high-quality little knife with a classic 3.19-inch drop-point blade and the added bonus of a paracord handle, and it's small enough to work as an EDC option in addition to finding a home in your outdoor pack. This helps for grip, but you can also take the paracord wrapping out to provide you with some lashing, which is always handy in survival situations. You can also rethread the handle with paracord of your own (we recommend bright orange, of course).
Blade Length:   3.2 inches
Overall Length: 7.9 inches
Blade Material: D2 steel
Weight:             5 ounces (142 grams)
Price: $113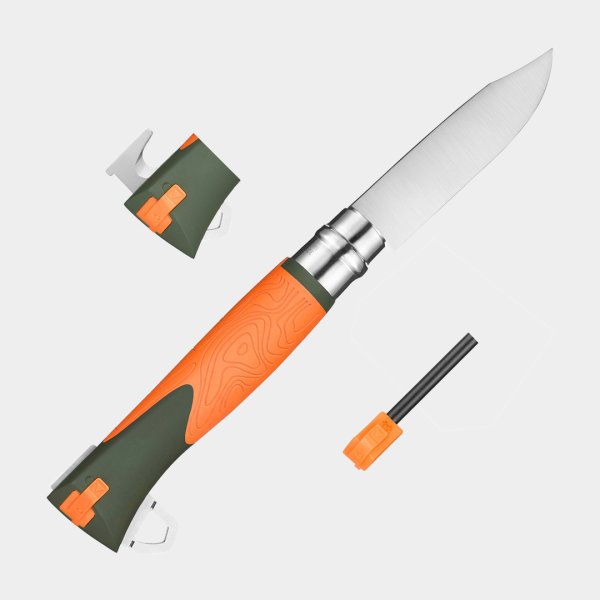 Opinel No.12 Explore Outdoor Folding Knife
Best Multi-Tool Style Knife: Opinel No.12 Explore Outdoor Folding Knife

This is another all-in-one folding survival knife that includes a whistle, fire starter, and a cutting hook. Again, the folding construction means that you sacrifice a high degree of durability in exchange for a smaller object that you can keep on you easily at all times (if your knife is so large and unwieldy that you never carry it, what's the point?). The No.12 scores bonus points because Opinel is a heritage brand making knives since 1890, and this particular design includes the company's classic collar lock alongside a colorful, grippy handle, and a four-inch Sandvik stainless steel clip-point blade. Plus it's got a loop for a lanyard to ensure you don't lose your knife while moving around the campsite.
Blade Length:    4 inches
Overall Length: 10 inches
Blade Material:  Sandvik stainless steel 12C27

Price: $55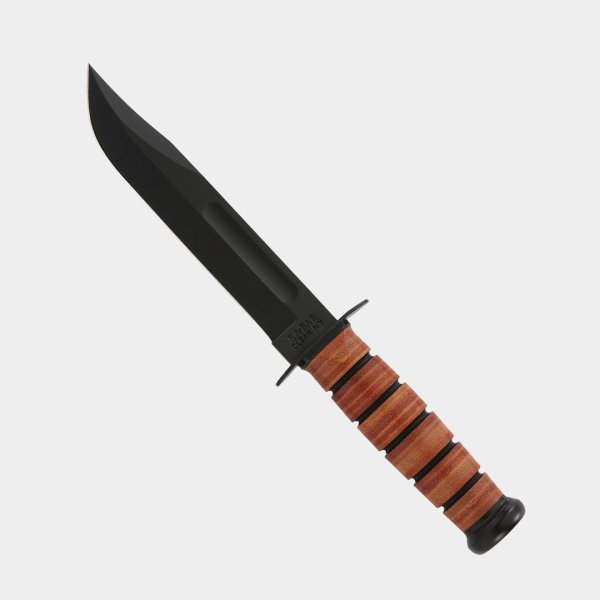 Made in USA Ka-Bar Straight Edge
Best Tactical Knife: Ka-Bar Straight Edge

"This is my knife, there are many like it but this one is mine," so they say. There are some iconic silhouettes in this world, like the Coca-Cola bottle, the Kikkoman soy sauce bottle, and, I'd argue, the American made Ka-Bar Straight Edge. I think there's something to be said for owning a knife just because you like it. This was a knife issued in WWII to soldiers for survival and self-defense but it can surely fill in as your survival knife with its seven-inch Cro-Van steel blade, leather handle, and included sheath. (Also available with a serrated blade and leather sheath.)
Blade Length:    7 inches
Overall Length: 12 inches
Blade Material: 1095 Cro-Van steel
Weight:             11.2 ounces (318 grams)

Price: $128

Looking for more essential gear for adventurous Knives? Please Click Here!

AUTHOR: Andrew Martin__SOURCE: Field Mag


Please contact us on Social Media: