Best Survival Knives of 2022 November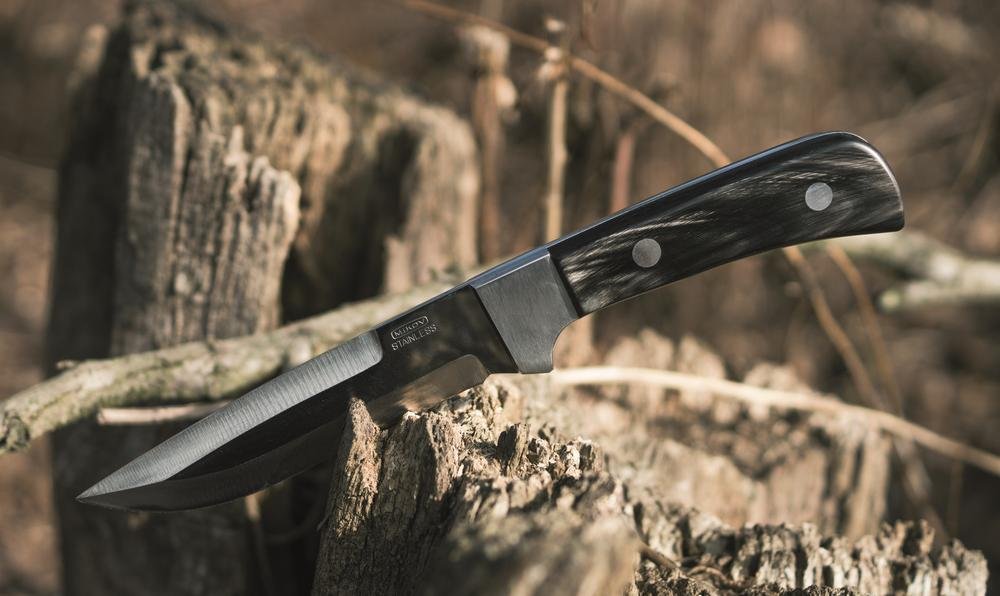 The premise of the hit survival-based reality TV show Alone is pretty straightforward: contestants fight to stay alive in remote and harsh environments in British Columbia, Patagonia, Mongolia, and beyond — the last one standing wins. But while previous shows in the genre pitted humans versus nature nearly empty-handed, this one lets participants select 10 items from a gear list that includes shelter, bedding, tools, cooking equipment, and even food. In Alone's eight-season run, roughly 70 percent of the contestants have chosen a knife.
It's no surprise that a knife is one of the best tools to have on hand when survival is the priority. But some blades are better at the task — which might involve building shelter, creating other tools, hunting, processing wild game, starting a fire, and self-defense — than others.
"Typically, survival knives will be moderate-sized fixed blades with size, geometry, and features that maximize the durability and versatility of the knife," says Vance Collver, director of product line management at Benchmade. "Ultimately, a good survival knife is a jack-of-all-trades and master of none." The sweet spot, he says, is somewhere between a bushcrafting knife and a combat or fieldcraft knife.
"Survival knives should follow the "K.I.S.S." principle: 'keep it super simple,'" Collver adds. The blade should be robust, long enough for light chopping but not unwieldy, and made of durable steel that can resist impact but is also easy to sharpen. The handle shouldn't be so smooth it's difficult to grip, nor so grippy it causes blisters. And its handle should have a guard to prevent one's hand from slipping onto the blade. "In a survival situation, an injury could be catastrophic," he points out.
Hopefully, you'll never need a survival knife. But if you frequently work or wander in remote locations, one of the following models is your best bet.
Credit: Best Survival Knives
BEST OVERALL SURVIVAL KNIFE
Almazan Custom handmade Carbon steel hunting knife with Micarta Handle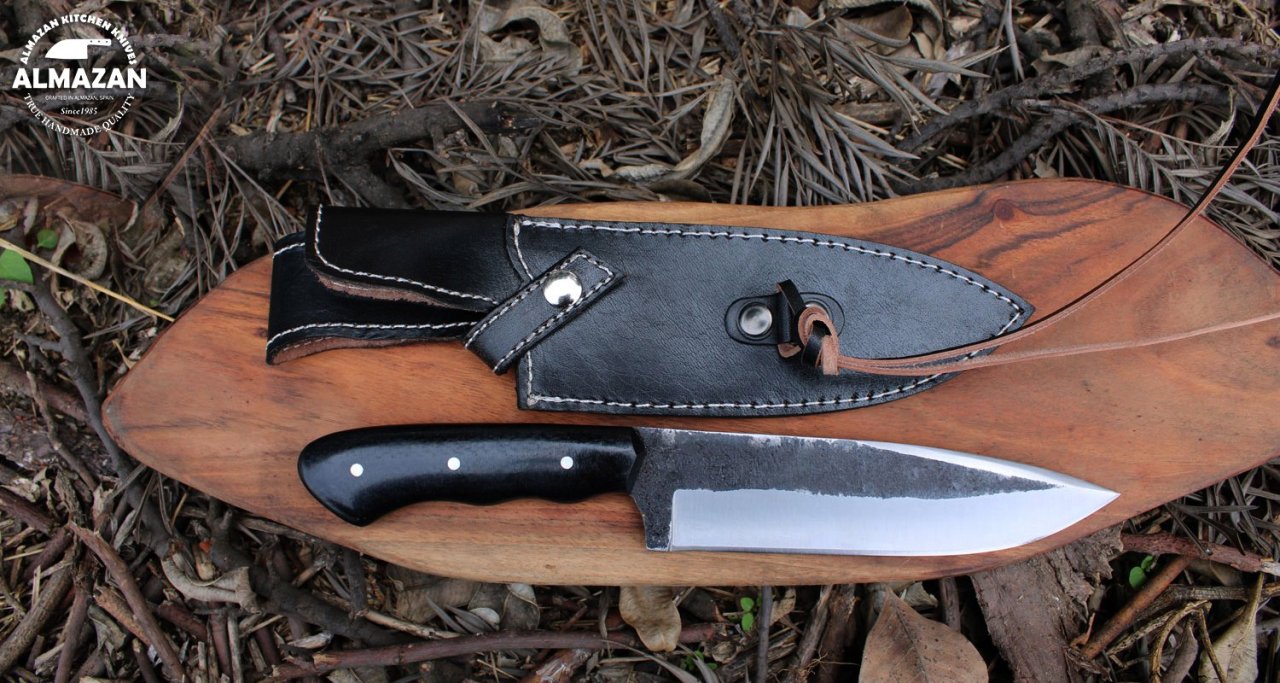 Over All Size: 12" inc
Blade Size:  7" inch
Handle Size: 5" inch
Blade Material: Carbon steel
Handle Material: Micarta
Three Steel Pins & Full Tang
This Custom handmade hunting knife with a Micarta Handle made of high-quality Carbon steel is a good choice for slicing, cutting, chopping, or preparing meat, fish, and other things. A hunting knife is the most important tool when you go outdoors hunting. It is used for cutting through thick and thin bushes. This knife can do everything around the campsite and is robust enough for even the toughest tasks. The sharp wide and long blade provides strength and balance. It also has amazing sharpness and wears resistance, performing beyond traditional advanced alloy and ceramic tools. The knife fits well in the hand, and lightweight makes it easier to control the knife. Handle with a perfect shape makes a comfortable grip. Quality: The Process of making a forged knife is usually more expensive, time-consuming, and labor-intensive than making a stamped knife. The Use of the Forging Process for a knife is to Ensure better quality, more comfort, and efficiency to use
BEST UPGRADE SURVIVAL KNIFE
Almazan Custom Hand-Forged Carbon Steel Hunting Knife With Micarta Wood Handle By Almazan Knives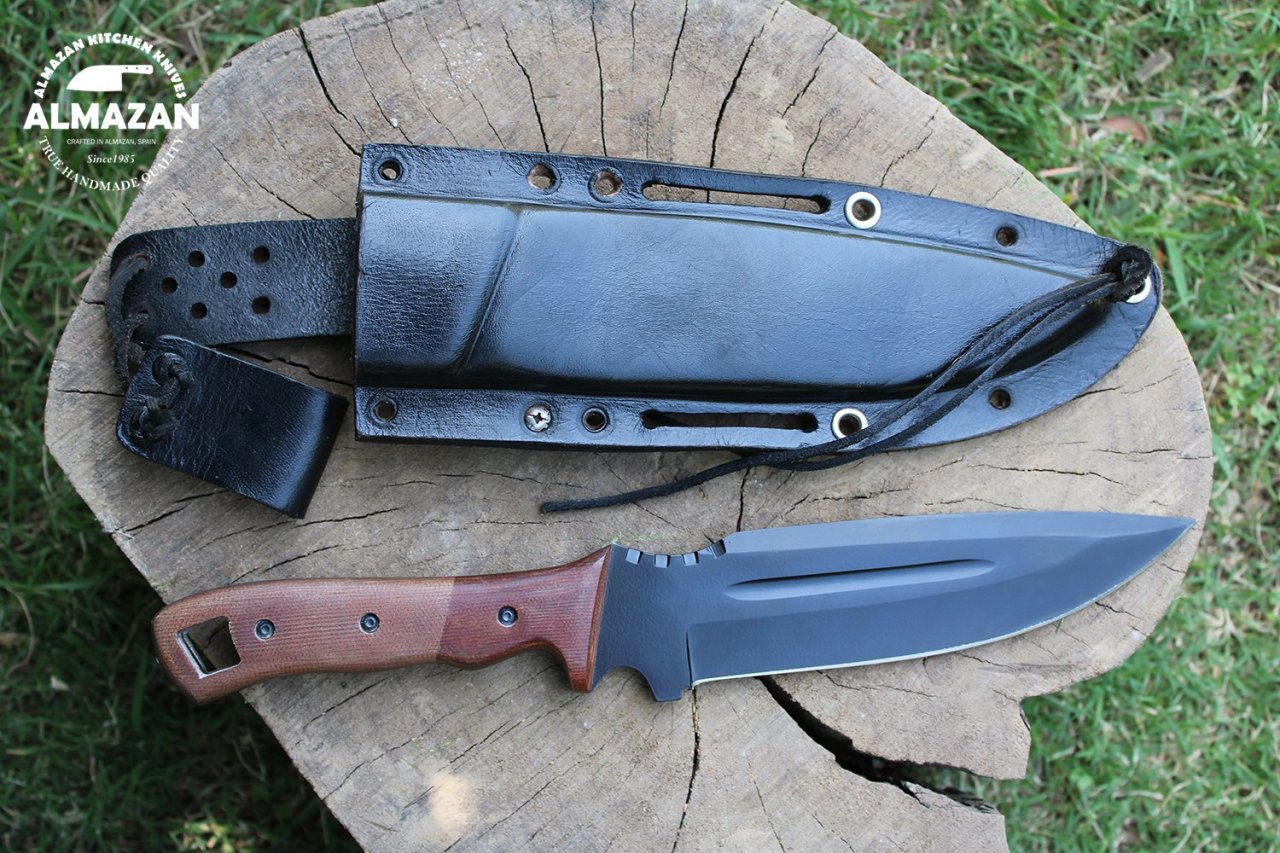 Over All Size: 12"Inch
Handle Size: 5.5"Inch
Blade Size: 6.5"Inch
Handle Material: Micarta
Blade Material: Carbon Steel
A Tactical Survival hunting knife is a good option for people who spend a lot of time outdoors hunting. Its blade is very sharp and you can cut anything easily. This knife comes with unrivaled performance and incredible edge retention. its handle is most comfortable and soft you can grip it easily. Heavy-duty tactical survival hunting knife, ideal for camping, fishing outdoor adventure ultimate intervention and self-deferential elegant appearance to the air last intervention promotes the comfort of transport and the possibility of carrying quickly in a work position. This knife is composed of a stainless steel strip with a blade on one or more sides, which provides durability, and reliability is used. This is a fantastic addition to your gadget's 100% satisfaction guarantee. We want you to be completely satisfied with every knife in our collection.  BEST BUDGET SURVIVAL KNIFE
Hunting Knife Colored Wooden Handle Carbon Steel Blade By Almazan knives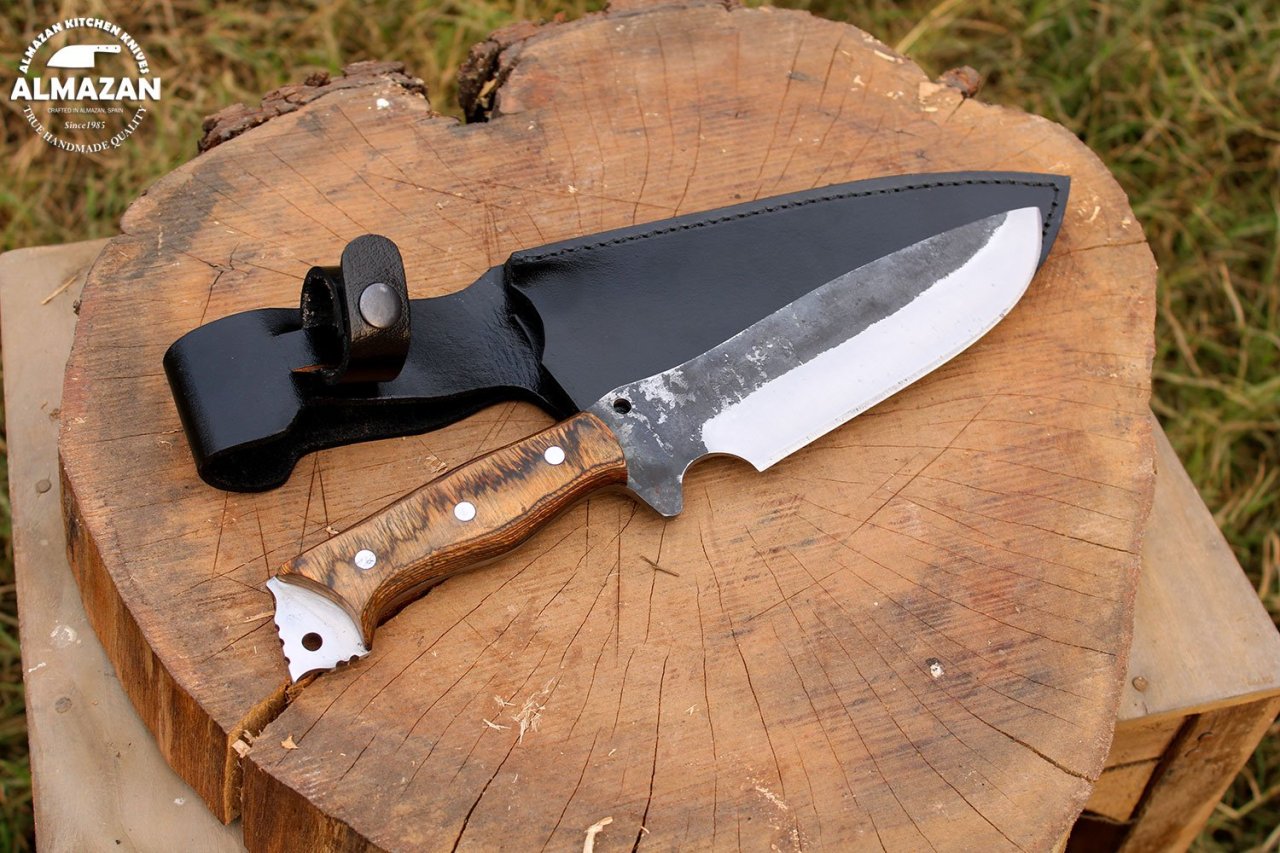 Overall Length: 13 inch
Blade Length:   8 inch
Handle Length:  5 inch
Blade Material: Carbon Steel
Handle Material:  Color Wood
Custom Handmade Carbon Steel Knife Made by Almazan Knives does not disappoint you. This hunting knife is designed as an all-around fixed-blade knife for bushcraft, wilderness survival, camping, outdoor cooking, and any other chores you can throw at it. Every-day carry-friendly,  Stunningly beautiful, and high-quality knives.  Comes with a double Stitched leather sheath with a snap enclosure that ensures safe and convenient carry while looking sharp in your bag or on your belt. Three Steel Pins in the handle and a Hole on Blade and Lanyard. The colored wooden handle is personalized to the hand, provides an Ergonomic grip, and can be used comfortably in both the forward and reverse grips, in left or right-handed use. Stainless Steel Blade, 8-inch blade length provides a robust and formidable cutting surface that will stand up to constant and frequent use. We've been making knives since 1885, and each knife undergoes our unique manufacturing processes and testing to ensure corrosion resistance, strength, edge-holding ability, and an out-of-the-box razor-sharp cutting edge. If you're in search of a multi-dimensional knife to take with you on your next adventure and get you through any tough situation that you may encounter, Everything about this knife indicates a premium and quality product.